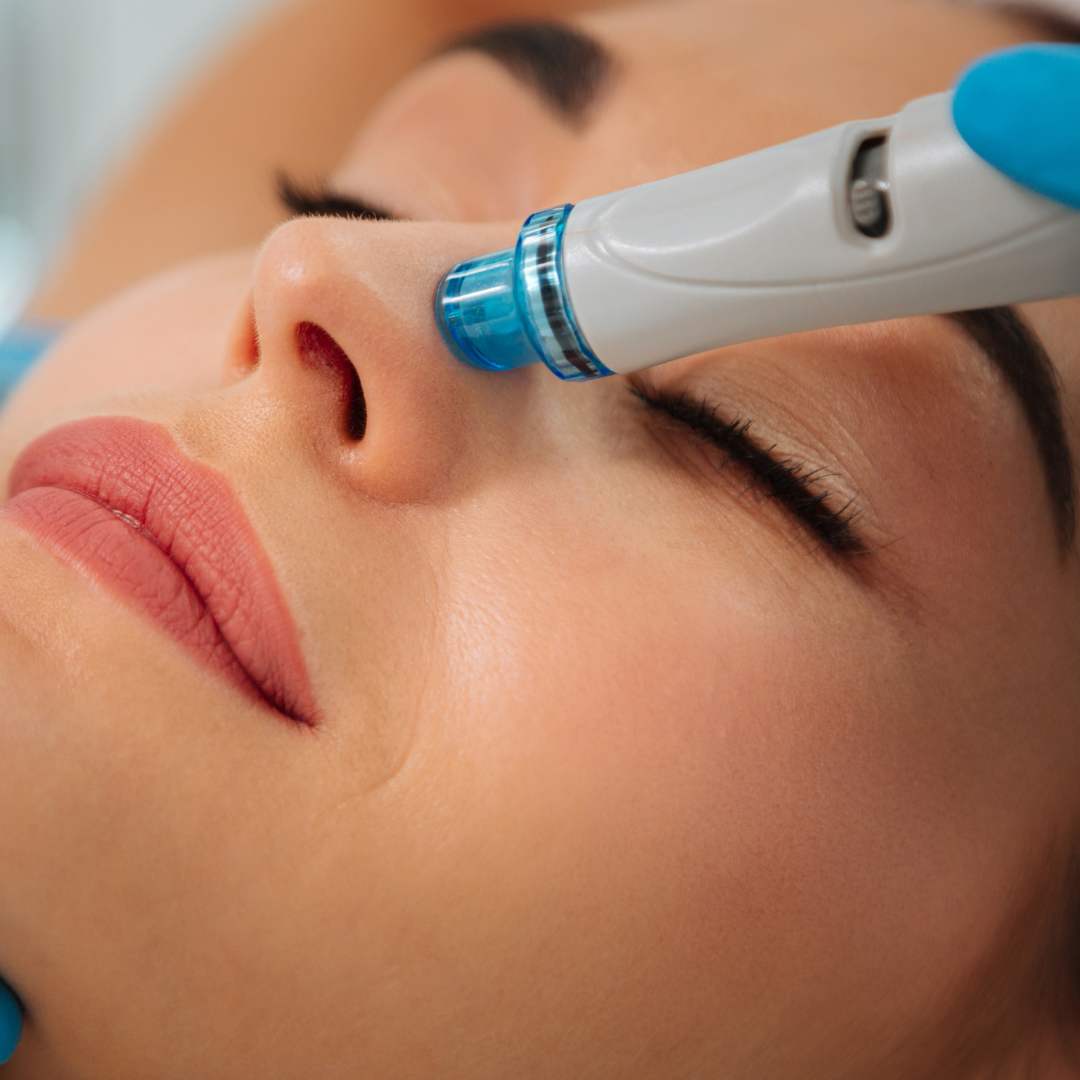 Do you feel like your usual, everyday skincare routine is not cutting it anymore? Do you have an event coming up and you want your skin to look its best? HydraFacial is the treatment for you.  
The secret to beautiful skin does lie in its health, however, we do understand that achieving and maintaining skin in its peak condition is not easy. Sun damage, pollution and our overall busy lifestyles can all damage our daily glow; fortunately, our experts are here to help you.
The HydraFacial is designed to deeply cleanse the skin, whilst also treating your skin concerns. Whether its wrinkles, dull skin, blocked pores, or acne, our team of expert practitioners can select the perfect HydraFacial treatment for your specific needs and goals.  
Benefits of the HydraFacial:
Softens fine lines and wrinkles.

 

Improves skin elasticity and firmness.

 

Evens skin tone and vibrancy 

 

Smooths skin texture 

 

Reduces pigmentation and pore size.

 

Cleanses oily and congested skin 

 
How does the HydraFacial work?
The HydraFacial technology uses super serums that are made with nourishing ingredients that create an instantly gratifying glow in just 3 steps: 
Cleanse and peel

 

Extract and hydrate

 

Fuse and protect. 

 
What's even better, HydraFacial uses advanced, patented vortex technology to deeply cleanse the skin and effectively deliver botanical ingredients containing powerful skincare ingredients such as hyaluronic acid, horse chestnut seed extract, copper, zinc, and magnesium peptides to where they do the best.  
In addition, HydraFacial also delivers powerful antioxidants to counteract damage created by free radicals – from pollution, stress, sun – which can degrade the skin and boost the ageing process.  HydraFacial delivers instantly noticeable, long-lasting results that you can see and feel.  
Every HydraFacial consists of these three simple steps – but it can offer endless ways to personalise based on your skin goals.  
Cleanse – deeply cleanses and exfoliates with a gentle peel to uncover a new layer of skin.

Extract – removes impurities from pores with painless gentle suction

Hydrate – saturates the skin's surface with intense moisturisers and nourishing, personalised ingredients.

 
The magic of HydraFacial is in the wand, which works like a vacuum to open pores for a deep cleanse, and easy extraction of impurities. It also allows the active ingredients in the boosters to penetrate deeper, for a more effective treatment.  
How many sessions of HydraFacial will I need?
Many clients do report seeing visible skin refinement and an even, radiant skin tone just after one session of HydraFacial! The smooth results and hydration may last up to 5-7 days or even longer! We do no believe in quick, surface-level solutions, so it is recommended that you choose to do 1 treatment per month, for improving the appearance of fine lines, wrinkles, brown spots, oily and congested skin! Continued HydraFacial treatments are highly recommended to maintain the incredible skin health results of this facial!  
Book a Consultation
Transform your skin today! Healthy skin doesn't happen by chance, it happens by appointment.
Does the HydraFacial have any downtime?
Fortunately, there is no recovery or downtime, so you can return to your normal activities immediately post-treatment and show off your healthy, glowy skin!  
Excellent, profressional service from a lady that knows her products. Roxana makes you feel comfortable, relaxed and at ease. Fabulous facial that made my skin glow!
Roxana is a master at what she does. Her knowledge is really impressive and her understanding of skin science and how to apply the latest techonology to achieve results was really impressive. I am now a regular client of hers and will continue to be as having great skin makes you feel amazing!
Roxana is a great therapist, discreet, tactful. She always makes me feel relaxed and welcomed. She has excellent knowledge of skin and ability to explain procedures in a clear manner. I would highly recommend her!
Explore Skin Treatments
Our skin treatments can help tackle anything from acne, sun damage, to making your skin glow from within. Explore our treatments and discover how we can help you achieve the skin health you deserve.
The HydraFacial treatment is designed for all skin types. Even the most sensitive skin can easily tolerate and reap the benefits of the HydraFacial treatment. Your practitioner can tailor specific treatment serums and/or customise the treatment for your unique skin conditions and needs.  
This treatment is unfortunately not suitable for a pregnant, or breastfeeding woman, or someone trying to get pregnant (including IVF treatments). If you have any questions, please do contact us and we are more than happy to help you!  
Precare
Aftercare
Gallery
Precare
2 weeks prior to the treatment: 
No cosmetic injectable treatments

 

Avoid excess direct sun exposure.

 
No waxing or laser hair removal/IPL treatments on the face

 
1 week prior to treatment: 
No depilatory use on face

 
3 days prior to the treatment: 
Stop using active ingredients on the skin. 

 

No chemical peel treatments

 
Aftercare
Gallery