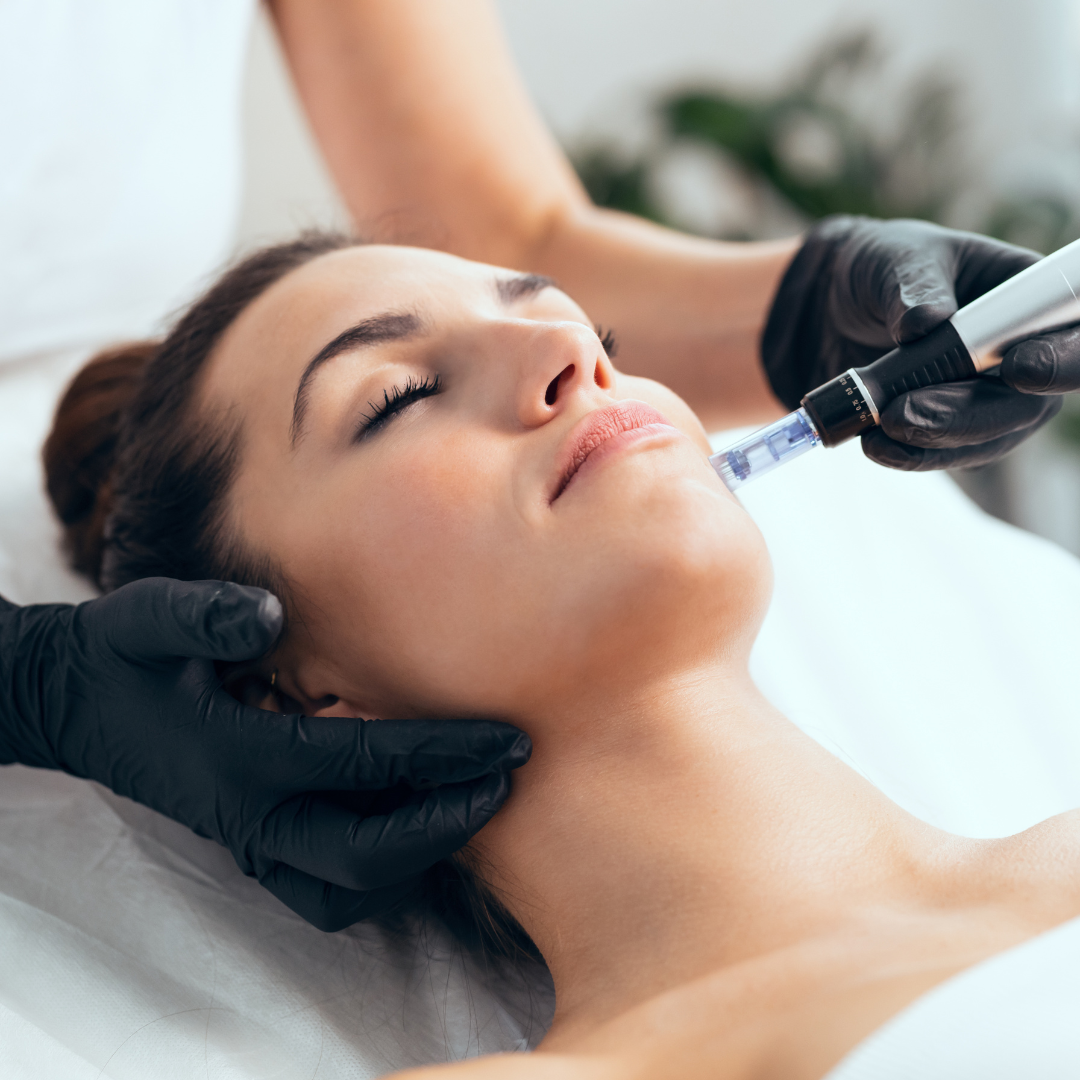 Mesotherapy offers an incredible solution to achieving your skin and body goals.  Whether you're aiming to rejuvenate, firm up, or brighten your skin, or tone specific areas of your body, this versatile treatment has got you covered. 
This advanced technique excels in rejuvenation, firming, toning, and slimming various body parts. Its applications extend to reducing cellulite, promoting weight loss, firming sagging skin, and addressing issues like stretch marks and ageing skin.  
Beyond body transformations, Mesotherapy proves invaluable for facial concerns such as acne scars, uneven skin tone, dull complexion, fine lines, and skin sagging. Remarkably, individuals of all genders find merit in Mesotherapy. Some even kickstart anti-aging treatments in their mid-20s as a proactive measure against wrinkle formation. 
During your initial consultation, our practitioner will delve into the extensive benefits of Mesotherapy and guide you in determining whether it aligns perfectly with your needs. 
Mesotherapy benefits include:
Improve skin elasticity.
Achieve a brighter complexion.
Offer deep hydration.
Firm the skin, reducing wrinkles.
Prevent oxidative stress.
Reduce pigmentation.
How does Mesotherapy work?
Mesotherapy employs a smart blend of natural extracts, amino acids, vitamins, and pharmaceuticals (including hyaluronic acid), skilfully injected into the mid layers of your skin. This unique mix works wonders by revitalising cells, sparking increased production of collagen and elastin—the elements that promote freshness, firmness, and vitality on your skin. 
Beyond its benefits in skin rejuvenation, Mesotherapy stands out as a non-surgical marvel for addressing excess fat. The formula, when injected into specific areas, not only boosts the local metabolic rate (that link between body metabolism and burning fat) but also impedes body cells from storing fat. This dual action effectively breaks down existing fat cells, targeting localized fat and cellulite in areas like thighs, buttocks, love handles, double chin, and other regions hosting pesky fat pockets. 
In contrast to liposuction, a well-known surgical fat removal method, Mesotherapy shines in cellulite management. Liposuction often exacerbates existing cellulite due to excess skin formation post-procedure. Mesotherapy's targeted injections directly into cellulite allow for precision in treatment, resulting in even and smooth skin with a remarkable reduction in cellulite—naturally impressive, wouldn't you say? 
How long does Mesotherapy take to work?
Amazingly, you will notice that the skin is more hydrated and tones after just one session of Mesotherapy. However, over time, you will notice that your skin tone and texture will become much more radiant and balanced, and your face and neck will appear increasingly fresh and rejuvenated.  
What is the downtime for Mesotherapy?
Fortunately, Mesotherapy is of course a non-surgical procedure and so there is no general anaesthesia or recovery time needed. In simple terms, there is virtually no downtime associated with Mesotherapy treatments. It is possible that there will be minor bruising, but this does subside quickly.  
Book a Consultation
Begin your journey with Whyte Aesthetics today!
A local anaesthetic cream can be applied prior to Mesotherapy to ensure there is absolutely minimal discomfort during the injections. However, most clients do tolerate the procedure well, and pain is minimal.  
How many Mesotherapy sessions will I need?
It is usually recommended that Mesotherapy sessions are completed in courses of 4-6. These can be done at one-to-two-week intervals. Once you have reached the optimal results and look that you desire, we do recommend that you have roughly 2 yearly treatments in order to maintain and boost your results!  
Excellent and very professional service, my skin looks amazing! People comment that I look 10 years younger! Thank you so much!
I've had several facials with Roxana which have all been tailored, made to suit what my skin needed at the time. Roxana is very knowledgable about the skin and the array of treatments offered and my skin is always left glowing, more youthful and hydrated. I would highly recommned going to see her if you'd like to see amazing results on your skin.
Roxana is a master at what she does. Her knowledge is really impressive and her understanding of skin science and how to apply the latest techonology to achieve results was really impressive. I am now a regular client of gers and will continue to be as having great skin makes you feel amazing!
Explore our Treatments
All of our procedures are non-surgical, and our treatments are performed by expert, medical practitioners. Whatever your aesthetics and wellness goals may be, we are here to make them a reality. From Lip Fillers, to Non-Surgical Rhinoplasty, the ever-popular HydraFacial, Dermal Fillers and so much more, we have you covered.
Mesotherapy benefits include:
Improve skin elasticity.
Achieve a brighter complexion.
Offer deep hydration.
Firm the skin, reducing wrinkles.
Prevent oxidative stress.
Reduce pigmentation.
It is possible for results from mesotherapy to last around 3-5 months. In order to maintain and boost these results, we do recommend top-up treatments in the future. Depending on your specific skin type, characteristics and concerns, different treatment plans may be recommended.  
Precare
Aftercare
Gallery
Precare
Avoid Willow Bark or Gingko Biloba supplements for at least 10 days prior to treatment.

Avoid Aspirin, Vitamin E, anti-inflammatory drugs such as Motrin, Advil, or Aleve for at

least 5 days prior to treatment.

Try to limit caffeine intake in the 24 hours before your treatment.

If you take any prescription stimulants, do not take them on the day of treatment.

If you are being treated on the face, start your Medrol dose pack 3 days before

treatment.

On the morning of your treatment, wash the area to be treated vigorously with antibacterial soap.

Do not use any lotions, creams, bath oils, or sprays on the areas to be treated.

Apply your Arnica cream (except if treated on the face) 2+ hours before treatment.

Eat a light, high-protein meal 2-4 hours before your treatment. A high protein bar

(with 30 grams protein or more) approx. 30-45 min. before your treatment can really help.
Aftercare
Gallery