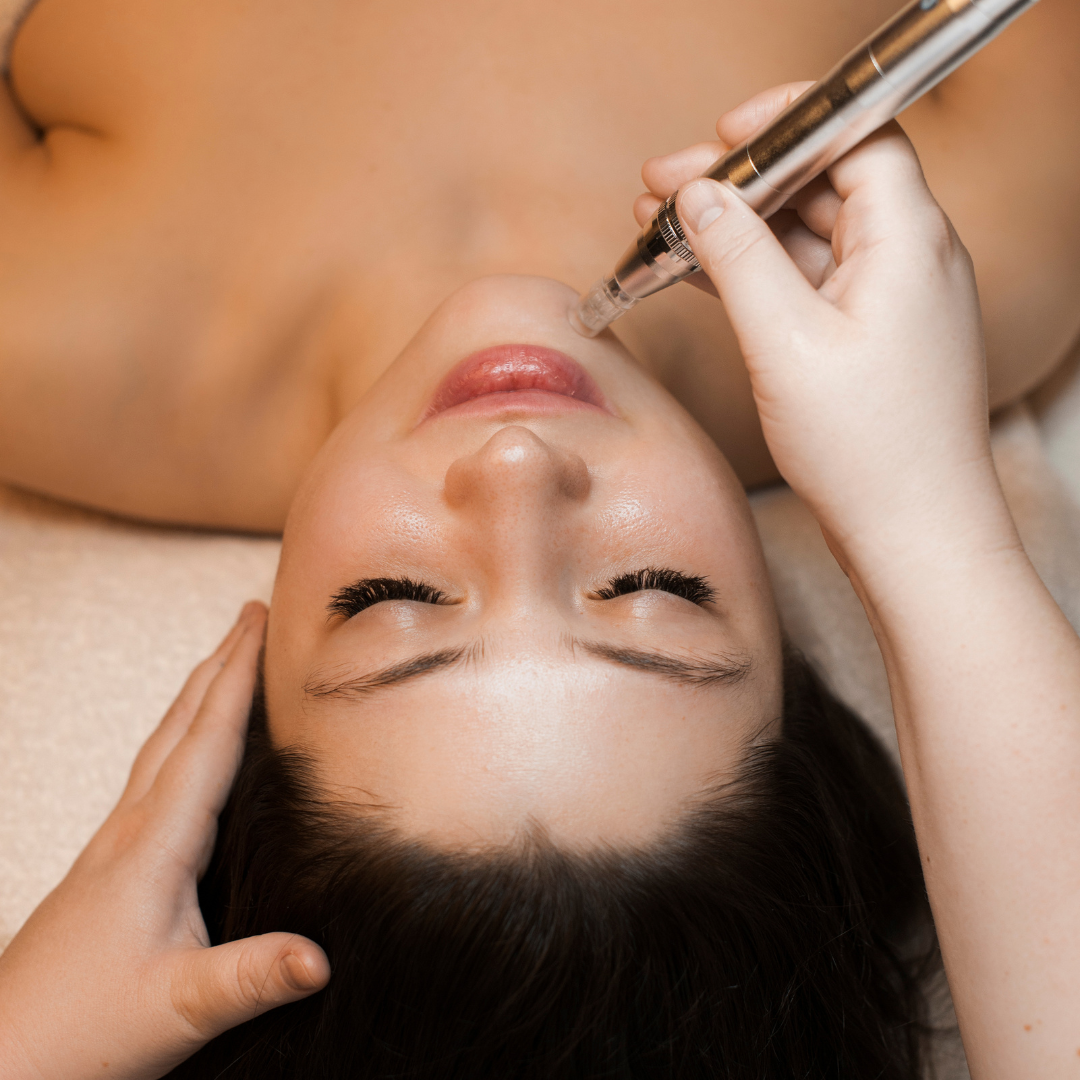 With Microneedling, you can maintain fresh and healthy skin, helping you give the youthful, glowy appearance you desire.
This procedure speeds up the renewal process of your skin, which helps to restore vitality to the face and neck.  
If you are unhappy with your skin, be it from old acne scars, age or sunspots, or the general fading of youth from your face, non-surgical rejuvenation with Microneedling is for you. With Microneedling, no surgery or downtime is required, and in just a few short treatments, you will see remarkable results, not only will the increased elastin and collagen plump up your face, but old scars and marks will fade away too.  
Microneedling is a non-invasive but extremely effective rejuvenation treatment which harnesses your skin's natural ability to repair itself. Using very tiny needles to puncture the surface of the skin, it stimulates a healing response, causing your skin to kickstart its collagen and elastin production. 
During these short procedures, a handheld device, such as a Dermaroller or the Dermapen, is rolled across your skin by our medical experts. This process thus triggers the production of new collagen. Over time and as part of a sustained regimen, you will experience a fresher and revitalised appearance with smoother, tighter skin. 
Microneedling can improve:
Appearance of scars, including acne scars, fine lines and wrinkles

 

Enlarged pores

 

Appearance of hyperpigmentation, or dark spots

 

Uneven skin tone

 

Skin elasticity 

 

The appearance of stretch marks

 
How does Microneedling work?
A dermaroller is a small rolling contraction covered with tiny needles, which penetrate the deeper areas of the skin. When rolled over target areas such as your cheeks, neck and forehead, the miniscule injuries penetrated by the roller induce the formation of new elastin and collagen fibres – the structural proteins that keep your skin fresh, tight and youthful. As your skin slowly responds to the treatment, its texture and firmness is improved. Ultimately, there is a reduction of fine lines, open pores, wrinkles and discolouration.  
How long does Microneedling take to work?
The results that you obtain from Microneedling procedures are gradual and cumulative, meaning you will require repeat treatments in order to achieve an optimal outcome. The appropriate course for you will be discussed with you during your initial, no-obligation consultation.  
What is the downtime for Microneedling?
Fortunately, there is no downtime with Microneedling, you can return to your normal, everyday activities straightaway.  
Book a Consultation
Begin your journey to health, glowy and clear skin today!
Microneedling may sound painful, but discomfort is actually minimal. The sensations you will feel will depend on the length of the needle and the area being treated. Generally, you will experience a warming sensation as the needles are rolled over the skin. In some ways, the treatment could even be described as a type of collagen-inducing 'massage'. Your practitioner will be happy to explain more and answer any of your questions!  
How many Microneedling sessions will I need?
Repeat microneedling sessions will be needed in order to achieve optimal results and to maintain the incredible outcome. This will of course depend on your specific skin type, needs and goals. A personal plan will be discussed with you during your initial consultation and review. It is possible for Microneedling to often be combined with other rejuvenation treatments to optimise results and hit your goals quicker.  
Roxana definitely knows her stuff! she will always give ger professional opinion regarding the treatments required given my current skin condition explaining why she thinks that way. My skin improved a lot over the course of tailored treatments. I am 35 and have acne-prone skin but I am also interested in anti-ageing treatments. I had peels and microneedling performed by Roxana and it worked brilliantly.
Best aesthetician in London! Wouldn't let anyone else touch my face. Since I've been going here, my skin is in much better condition. Would highly recommond. I've done a combination of needling/peels/laser. I get such good skin advice when I am there.
Explore Skin Treatments
Our skin treatments can help tackle anything from acne, sun damage, to making your skin glow from within. Explore our treatments and discover how we can help you achieve the skin health you deserve.
Microneedling procedures involve sticking tiny, sterile needles into the skin. Interestingly, your body produces more collagen and elastin as a response to the little injuries, which in turn helps your skin repair and makes you appear younger. 
The effects of microneedling treatments typically last for between 3-5 months. The amount of time the new collagen stays in your skin and the severity of your skin issues are the main determinants of how long the effects will last.  
The majority of our clients get their full benefits four to six weeks after the procedure has taken place. Your body will have plenty of time to create collagen and elastin and deliver it to the micro-wounds created. You will notice that you skin will appear both healthier and more youthful!  
Precare
Aftercare
Gallery
Precare
Avoid Accutane in the six months prior to beginning your treatment sessions.
Do not use topical agents that may increase the sensitivity of your skin such as retinoids, exfoliants, topical antibiotics or acids 5-7 days prior to your treatment.
Do not take anti-inflammatory medications such as ibuprofen, Motrin, or Advil for at least 3 days prior to your microneedling session. These will interfere with the natural inflammatory process that is critical for your skin rejuvenation.
Avoid IPL/Laser procedures, unprotected sun exposure, or sunburn for at least 2 weeks prior to your procedure.
No waxing, depilatory creams, or electrolysis to the area being treated for 5-7 days prior.  
Do not shave the day of the procedure to avoid skin irritation. If there's dense hair present in the treatment area, shave the day before you arrive for your appointment.
If you're prone to cold sores, take an antiviral agent for 2 days prior to and the day of the treatment.
Avoid blood thinning agents for one week prior because bruising is a common side effect of microneedling.
Aftercare
Gallery