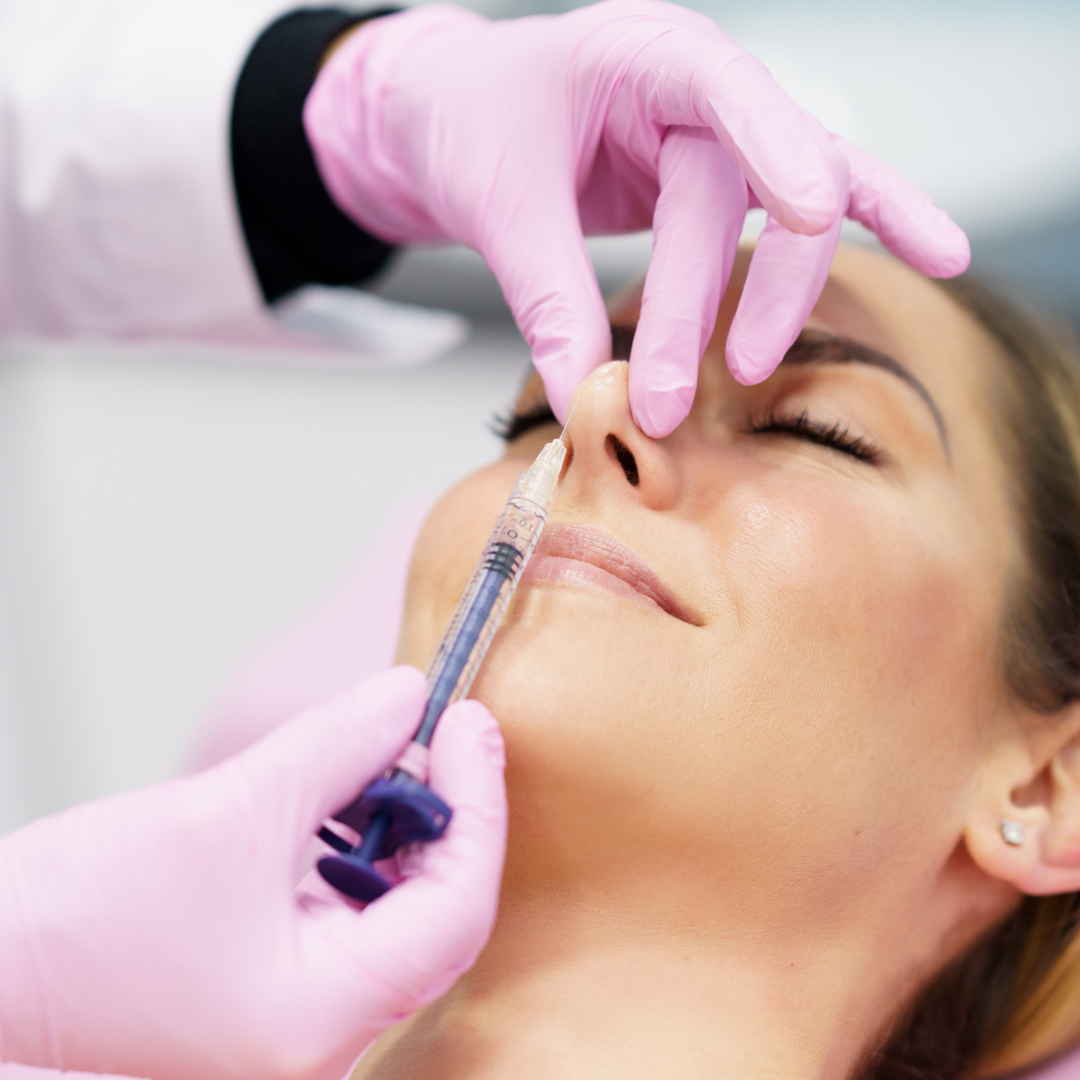 The non-surgical rhinoplasty can help improve a range of noses from minor bumps, to drooped tips. This nose job can give the look of a shorter nose and more youthful appearance in a short, quick procedure!  
What is Non-Surgical Rhinoplasty?
Many of us are unhappy with the shape of our noses, and it is natural to feel self-conscious about it – although to others, your worry is most likely to be noticeable. Fortunately, our non-surgical nose job procedure can help you alleviate your insecurities and worries. There is no surgery involved, so don't think scalpels or sutures – procedures with this treatment are relatively short and painless, and the results you can obtain are 100% natural and long-lasting.  
 The non-surgical rhinoplasty can help improve a range of noses from minor bumps to drooped tips. This nose job can give the look of a shorter nose and a more youthful appearance in a short, quick procedure!  
 Whether you have a crooked, or concave nose, the filler can help smoothen the appearance to give a straighter nose!  
Concerns that our non-surgical rhinoplasty can solve:
Concave nose

 

Drooping tip 

 

Wavy nose

 

Hooked nose

 

Crooked nose

Imperfections caused by previous surgeries or injury

Flat or wide noses 

 
During your initial consultation, our expert medical practitioner, our doctor will analyse your situation and discuss with you regarding your ideal outcome and goals, and explain how you can make it a reality.  
How does our non-surgical rhinoplasty work?
Non-surgical rhinoplasty involves injecting absorbable fillers into your problem area to add volume, to lift, and to straight as required.   
The doctor uses a range of fillers, which are injected into precise points, according to each client's individual needs. Such products are absorbed by the skin naturally and continue to work over many months via the production of new collagen.  
This treatment is ideal for many that want a quick fix in the reshaping and modifying of the nose, as it is a non-invasive, with less risk and less downtime, temporary treatment that is easily maintainable unlike surgical nose treatments.  Many of the same goals and similar results as a surgical rhinoplasty can be attained with non-surgical rhinoplasty, but with less commitment, cost and ideal for many that are not ready for a permanent solution to their appearance.  
How long do non-surgical nose jobs take to work?
Our non-surgical nose job/rhinoplasty produces immediate results. Of course, depending on your specific goals and desires, repeat sessions may be recommended by our team until the desired results is achieved!  
What is the downtime with non-surgical nose jobs?
Amazingly, there is no downtime associated with our non-surgical rhinoplasty procedure – nor are there any of the risks that you may link with surgical procedures.  
Book a Consultation
Start your journey with Whyte Aesthetics today!
Does non-surgical rhinoplasty hurt?
Our procedures for non-surgical rhinoplasty are relatively pain-free! The treatment involves some injections in the area, however, discomfort is minimal.  
How many non-surgical rhinoplasty sessions will I need?
In most cases, our clients only require one non-surgical rhinoplasty treatment to achieve their desired nose shape. However, this does of course depend on your specific circumstances and will be discussed with our expert practitioner.  
Roxana is an amazing therapist with healing hands. She has great knowledge about her treatments and is alwats friendly and nice. I love her massages and facials and always go away feeling great!
Roxana was excellent and very professional. She was warm and welcoming and amde you feel relaxed prior to the treatment she carried out on me. The final results were excellent.
It is important to understand that a crucial part of your package for this treatment is the aftercare. Once the desired end-result is achieved, the results can last for a whole year – or longer!  
Explore Face Treatments
Find here the latest procedures for restoring lost value, lifting the face, or reshaping facial features. Achieve the look you want with Whyte Aesthetics today.
Everyone is different and unique, however, results from non-surgical nose jobs can last for up to a year or longer depending on external factors and your individual circumstances and goals. It is important to understand that the results obtained by non-surgical rhinoplasty are not permanent and thus you may want to repeat the treatment to maintain and boost your results! 
Non-Surgical Nose Job procedures usually take around 20 minutes. Your practitioner will advise you on how long your session is likely to last. 
Precare
Aftercare
Gallery
Precare
Aftercare
Gallery